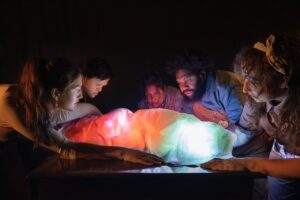 As Slingsby's Flying Squad's first term of touring into schools comes to a close, we say a huge thank you to the teachers and students that have welcomed us into their creative spaces across South Australia. It has been a complete joy to share in story and offer the gift of creative skill sharing. It's been a challenging start to the year for schools, and it continues to be a great privilege to collaborate with inspirational teachers as they find brilliant ways to continue to bring art and theatre into the lives and learning of their students. Thank you for inviting us to play a role in that.
"…highly engaging storytelling and magical theatre making…" 
Danii Zappia – St Michael's College
"Thank you, Slingsby for continuing to inspire and equip the next generation of Australian theatre makers!"
Danii Zappia – St Michael's College
"…this program is extremely important and has had a huge impact on our students…"
Suriya Umapathysivam – Balaklava High School
"…all the magic of an in-theatre performance with beautiful lighting and sound, as well as transforming set that captured the aesthetic that Slingsby has become known for."
Giselle Becker – Glenunga International High School
"Cultural, Linguistic and Neurotypical diversity was fostered and celebrated, and this led to rich conversations…" 
Rebecca Sykes – Woodville High School
"…storytelling at its finest. Everyone I spoke to from year 9s to 12s to teachers were blown away and were able to put authentic words to why they were moved in the way they were."
Majo Bogatec – Sacred Heart College
We loved the performance…the Year 11 and 12s created some plays with the RSVP method and are very positive about using this to create their Year 12 presentations. 
Andy Ahrens – St Martins Lutheran College
"As a young audience member, this play was eye-opening and perfectly explained the significance of trees…an important message for today's generation."
Student – Horizon Christian School
Thank you for this wonderful feedback from some of the schools we've visited.
Andy Packer
Artistic Director/CEO