A Note From The Director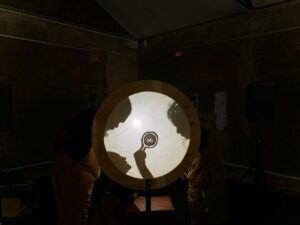 Theatre has incredible capacity to build moments of connection. Audiences connect with characters, performers connect with audiences and performing arts companies build connection with communities. A passion for these moments of connection drives our work at Slingsby.
What about people who for a myriad of reasons may not feel invited into the traditional method of experiencing a ticketed theatre production?
This is a question that guided us as we developed, designed and created The Memoryologist. This intimate, one on one theatre experience, takes Slingsby out of theatres, onto the streets and into public spaces of Adelaide, where we meet the citizens of our city, going about their daily business in community libraries, centres and heading to the markets.
Through The Memoryologist we are handing over control of the story choice to the community, collecting their memories and allowing this to be our guide to creating pieces of theatre that we then perform back to community.
With the investment of City of Adelaide, The Memoryologist appeared late last year at the Adelaide City Library, North Adelaide Community Centre and Minor Works Building to collect more than fifty precious memories. Last week we had the great pleasure to return to these locations, to perform a selection of shadow play performances built on 17 of the memories that we collected previously.
The Memoryologist was also invited to appear at the 30th Anniversary WOMADelaide Festival, where we collected 147 memories across four days. We have found this experience of stepping out of the theatre to be inspiring and powerful as we meet people we may not connect with in theatre. The stories are powerful, the quality of the connection just as rich and the access for the community to theatre is greatly improved.
We look forward to more connections, and further public excursions with The Memoryologist, and other Slingsby projects we are dreaming up.
The Memoryologist Created and Performed by Slingsby's Flying Squad:
Alexis West
Delia Olam
Edgell Junior Edgell
Elleni Karagiannidis
Jenn Stefanidis
Joshua Campton
Director: Andy Packer
Designer: Wendy Todd and Flying Squad
Composer: Quincy Grant
Construction: Wendy Todd and InSet Set Construction
Initial Development: Emma Beach & Stephen Sheehan
Producer: Georgia Stanley and Rebecca Pearce
Supported by: Arts South Australia, RISE Fund, Australia Council for the Arts, City of Adelaide