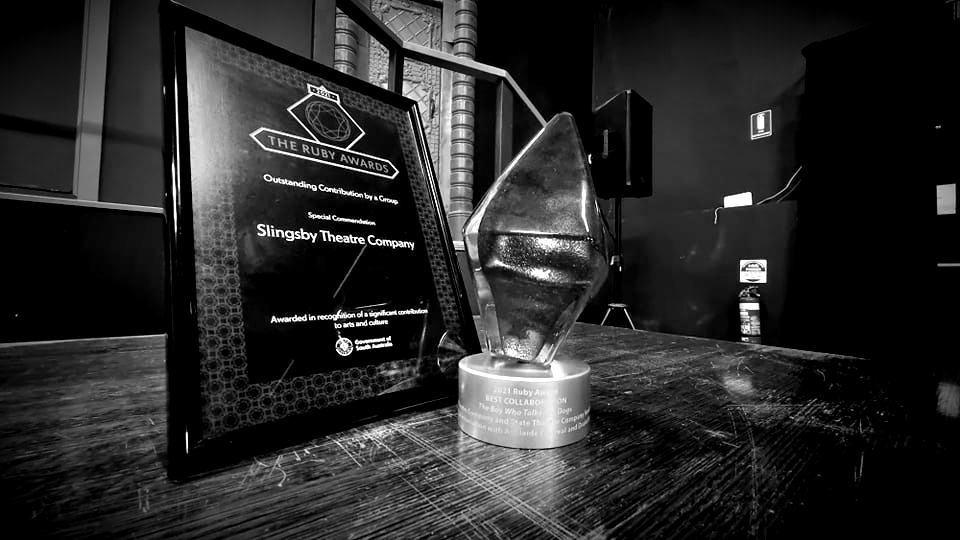 Slingsby is thrilled to announce it is the recipient of the 2021 Ruby Award "Best Collaboration" for the work The Boy Who Talked to Dogs.
Premiering to sold out audiences at the 2021 Adelaide Festival, The Boy Who Talked to Dogs was the most ambitious work to date from Slingsby and was produced in partnership with State Theatre Company South Australia and Dublin based venue Draíocht. The Ruby Award winning show played to 6340 audience members across 26 performances over the duration of the 2021 Adelaide Festival including 2960 students from 60 schools.
Based on the memoir of the same name, The Boy Who Talked to Dogs was created by Irish and Australian based artists Amy Conroy (playwright), Lisa O'Neill (song writer), Andy Packer (director), Wendy Todd (designer), Quincy Grant (composer), Chris Petridis (lighting designer) and Ailsa Paterson (costume designer).  Supported by 3 multi-instrumental Australian musicians (Quincy Grant, Victoria Falconer and Emma Luker), and the outstanding Irish actor Bryan Burroughs.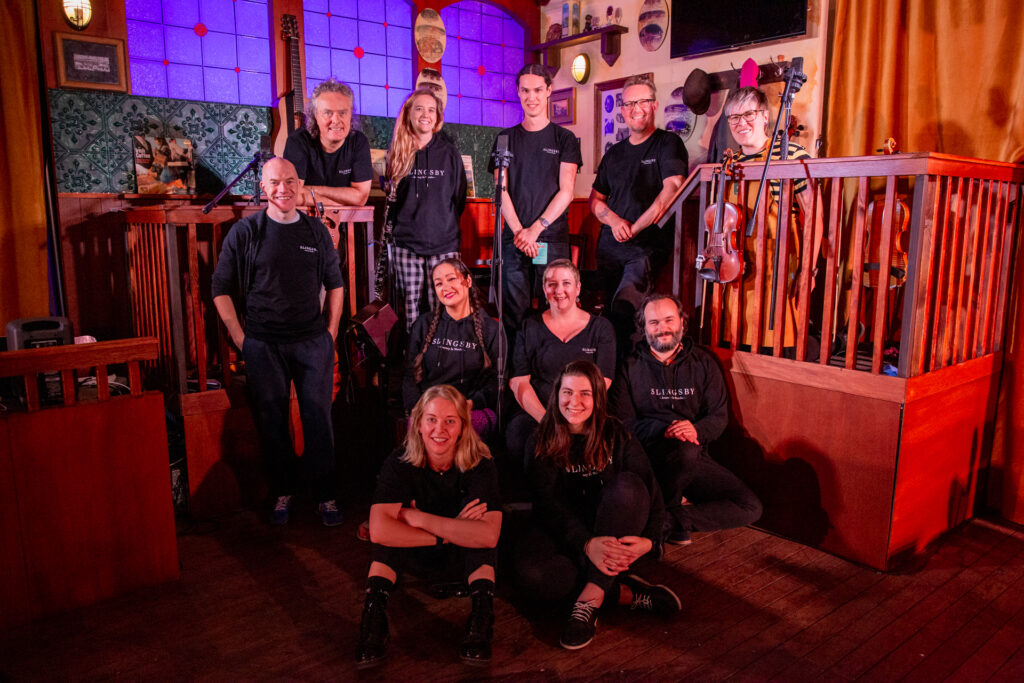 The Boy Who Talked to Dogs is based on Martin McKenna's lived experience of growing up in Garryowen in the 1970's, a triplet in an abusive and impoverished family of 8.  Life in Garryowen in the 1970's was especially tough on Martin, and he spent many nights locked in the coal shed by his alcoholic father, seeking comfort and warmth from his two German Shepherds, Major and Rex. Eventually, the abuse forced Martin to run away from home, leading him to live in hay barns and train culverts for three years where he was adopted by a pack of stray dogs.
In spite of the complexities of McKenna's story, The Boy Who Talked to Dogs is ultimately a story of hope and resilience in the face of life's adversities.
Slingsby's Chair of the Board, Penny Griggs, says
"This prestigious award is wonderful recognition of great work and cultural leadership Slingsby provides for family audiences across South Australia and around the world."
Slingsby's Artistic Director & CEO, Andy Packer says:
"We are humbled to receive this award and to be nominated with so many outstanding companies. The Boy Who Talked to Dogs is our first international collaboration, and we were fortunate to collaborate with such an exceptional team of artists both here and in Ireland. We look forward to touring this special work to national audiences in 2022 with a significant Irish tour planned for 2023.
"Exquisite in every respect, this world premiere theatrical adaptation of outsider Martin McKenna's memoir is as unconventionally delightful as the author himself…
…Once again, Slingsby artistic director Andy Packer has triumphed in fusing all these disparate elements together like some kind of theatrical alchemist, to create an entirely original experience which is equally engaging for adult and teenage audiences." Patrick McDonald, The Advertiser
2022 will bring Slingsby's largest year of national touring to date.
Nationally, Slingsby will tour its 2021 Adelaide Festival hit The Boy Who Talked To Dogs, created in partnership with State Theatre Company South Australia and Draiocht. The Boy Who Talked To Dogs will travel across Australia for 6 weeks, stopping in Victoria, New South Wales, Queensland and Northern Territory. Emil and The Detectives will also be touring for 3 weeks across the Eastern States.
Within South Australia, Slingsby's Flying Squad will travel to schools in metropolitan and regional areas with the world premiere of This Tree Is A Story (about everything, including you, as told by me). The in-school performances will be accompanied by a suite of workshops for students from Year 4 to Year 12. In late 2022 the Flying Squad will also begin touring an intimate new performance work, The Memoryologist. This project has recently been active in several public venues around Adelaide thanks to a Cultural Partnership with City of Adelaide.